Pratt Industries is continually looking to grow and develop our next generation of workers. Understanding that the youth of today will be the workforce of tomorrow, we value the excitement and unique perspectives that college students and recent graduates bring through our internship and co-op programs.  Participants in both programs gain insights into the paper making and corrugated packaging industry, learn about sustainable business practices and build professional relationships that can help them as they launch their careers. At Pratt, our interns and co-op students work alongside and collaborate with experts in their fields of study in order to apply the skills and knowledge gained in the classroom to real-world scenarios.
"Our internship and co-op programs are very special to Pratt," said Mark Kempa, Executive Vice President of Human Resources. "We have invested a great deal of time and effort to ensure that they will provide relevant professional experience for the students while building on Pratt's long term commitment to establishing a talent pipeline of young professionals to fill future positions."
Broad Range of Opportunities
Pratt offers internships  and co-ops in a variety of disciplines at locations throughout the country. Internships typically take place during summer break months, while the co-ops occur during the school year allowing participants to work as a full-time Pratt employee earning college credit to fulfill their program requirements. Internships and co-ops are offered across a variety of fields including finance and accounting, chemical and mechanical engineering, human resources, marketing, packaging design and others.
Interns and co-ops are integral parts of their local teams and provide new, valuable insights to the projects on which they work. All program participants are challenged to apply the lessons learned in the classroom to projects that directly impact business operations.
"Our goal is to create a thorough program with meaningful projects that allow interns and co-ops to get real world experience while bringing new ideas to Pratt," said Laurie Dyches, Director of Pratt U. "The program benefits both the students and Pratt as a company.  Many of the solutions that the students bring to the table are implemented by our plants. From this, the students  gain confidence and experience within their disciplines and Pratt gains new solutions and insights."
Projects can range from assisting with steam piping in the paper mills or designing customized packaging for customers to generating creative marketing communications or managing employee recruitment and HR efforts.  In a survey completed by recent program participants, more than 90%  agreed that the skills they gained during the program were useful and directly applicable to their disciplines.*
"The projects that I worked on during my internship at Pratt were very relevant to my major," shared Evan Charney, Mechanical Engineering intern at Conyers, GA. "We were able to apply the drawings, calculations and theories that we learned in class directly to our projects in the paper mill to see them come to life."
Learning from Professionals, Networking with Leaders
Pratt also fosters an  open environment where interns and co-ops are encouraged to share their perspectives and interact with employees at all levels of the organization. Many participants shared  that their supervisors and coworkers made the experience both educational and enjoyable.
In addition to on the job learning, interns are encouraged to share their experiences with one another through virtual meetings and discussions in collaborative sessions, including at Pratt's  in-person, two-day summit held at the corporate headquarters in Atlanta. At the summit, students present projects they completed during the program to each other and to executive leaders, sharing how their projects were implemented at their specific locations or across the division.
"What makes our program special is that our senior leaders are actively engaged," said Dyches. "They regularly attend the virtual intern and co-op meetings as well as the end of program summit. During this in person meeting, members of our leadership team attend the presentations, provide feedback and build relationships with participants."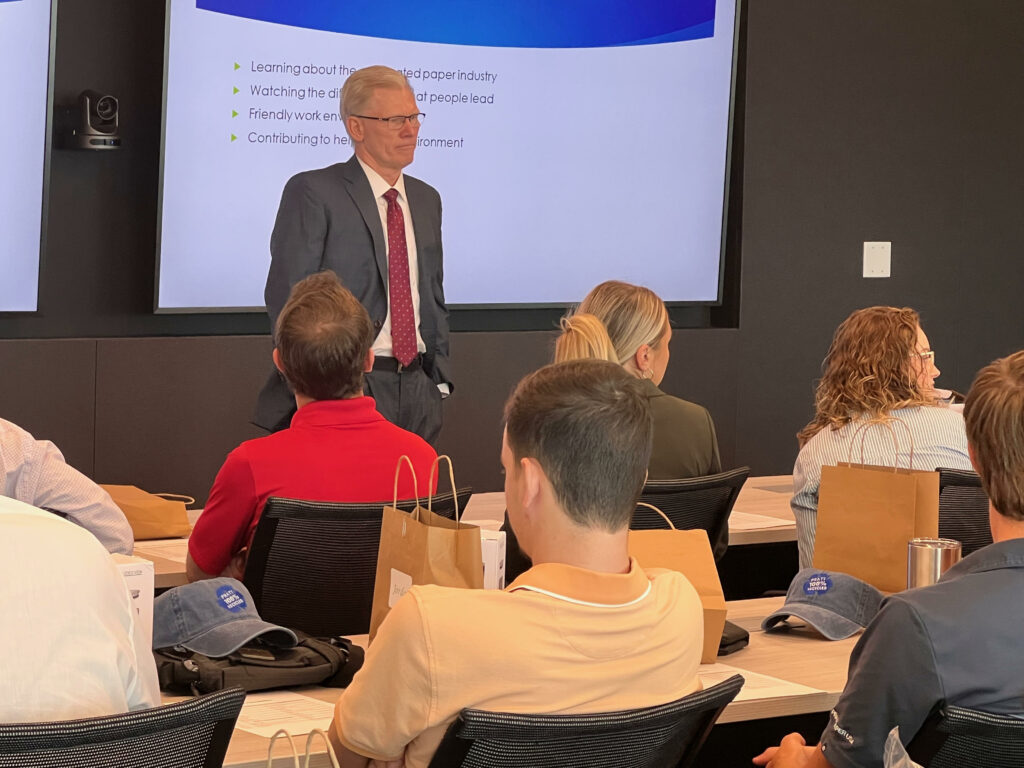 Developing a Career Path
Through the internship and co-op programs, Pratt is building and growing a talent pipeline of future employees, and more than 85% of surveyed participants agreed that they would be interested in a potential full-time job at Pratt upon graduation.*
"My accounting internship at Pratt resulted in an offer for a full-time position with the company after I graduated,"  said Austin Muse, Business Analyst at Pratt Corporate in Atlanta. "In my new role, I am able to work and learn from exceptional leaders who impart valuable lessons that help me grow professionally and personally."
"Internships and co-ops are most successful when they are mutually beneficial to both the intern and the company providing the internship," said Kempa. "Our goal is to ensure that our interns and co-ops are exposed to the many challenging, yet rewarding, career opportunities that we have available so that when they are ready to begin their careers, they consider Pratt first."
To learn more about internship and co-op  opportunities with Pratt, visit Careers.PrattIndustries.com and search Intern.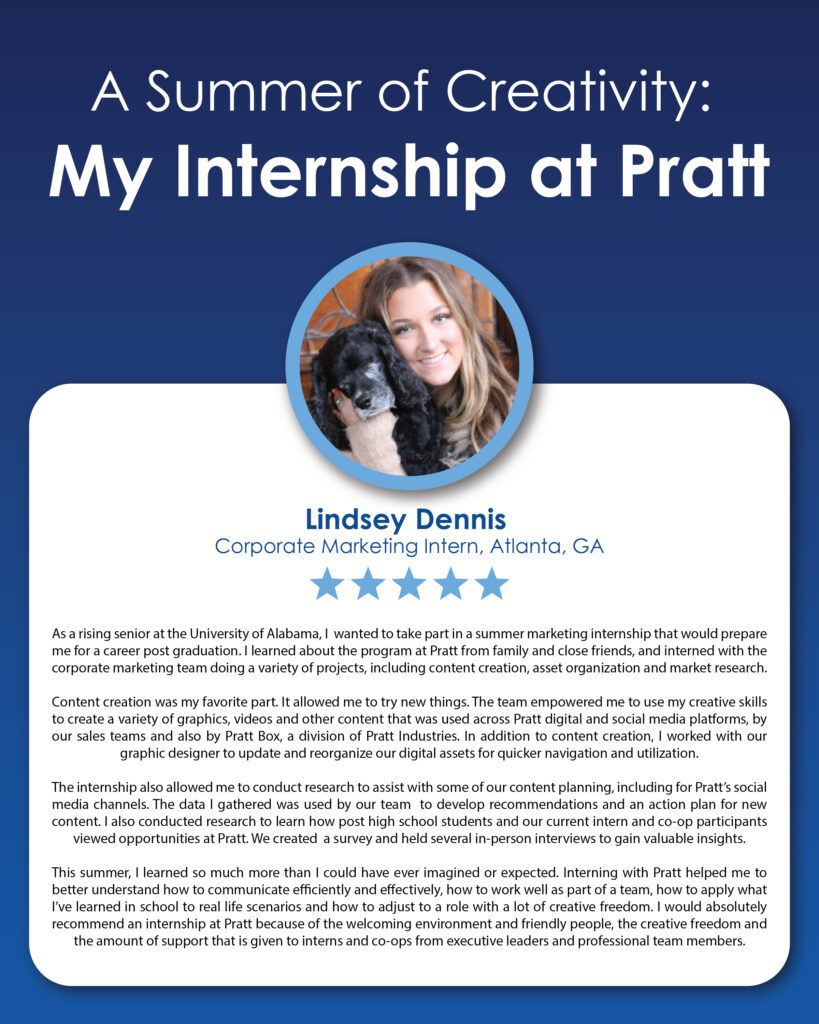 *Source: 2022 Pratt Industries Intern & Co-op Program Survey